Ricoh ScanSnap S1100i
Ricoh ScanSnap S1100i - Sheetfed scanner - Contact Image Sensor (CIS) - 216 x 863 mm - 600 dpi x 600 dpi - USB 2.0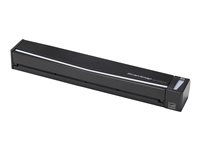 144.14 € vat excl.
NO STOCK (by order)
| | |
| --- | --- |
| Category | Scanners |
| Manufacturer | FUJITSU |
| Model | S1100i |
| Productline | Ricoh ScanSnap |
| Part number | PA03610-B101 |

The ScanSnap S1100i is a portable, compact and easy to use device perfectly suited for use in the office, at home or out and about. Powered via your notebook or computer's USB 2.0 port, the S1100i is built for portability whilst at the same time seamlessly scanning your documents anywhere and anytime.¦The ScanSnap S1100i comes in a robust yet lightweight format. Weighing just 350 grams and with impressive dimensions for such a formidable performer it fits seamlessly alongside your other devices for enhanced scanning flexibility. Scan all the paperwork you encounter from full-size documents to business cards and receipts.¦The S1100i is designed to take the hassle out of post scan involvement thereby freeing up time for other tasks. The S1100i will automatically detect the size of the document scanned and display a cropped image accordingly, scanned images will be automatically rotated, any scan skew eliminated and color is detected to help minimize file size.¦The S1100i is powered via a USB cable yet still offers impressive scan speeds of 7.5 seconds per A4 color page. The S1100i will automatically detect and scan in black and white or color, will recognize the size of each document and scan accordingly, will detect and correct for skew and will show images in their proper orientation. All these automatic functions help ensure that the first scan is the best scan and minimize operator involvement.¦The ScanSnap S1100i offers a choice of paper paths, a straight paper path aids for the scanning of everyday documents and thick materials like post cards, business cards, and plastic ID or credit cards and a U-turn path helps facilitate the scanning process when space is at a premium or indeed when the Continuous Document Feeding function is activated. The Continuous Document Feeding function allows the insertion of pages one after another by detecting when a sheet enters and exits.¦With the bundled CardMinder software adding and managing contact information is a breeze. Simply place the card in the scanner and push the button. CardMinder captures the business card and via OCR places the information into editable fields. Foreign language card? No problem. CardMinder recognizes 8 different languages and can export to Outlook, Excel and other contact managers.¦The S1100i can link to cloud services such as Dropbox, Evernote, Google Docs, Salesforce CRM and SharePoint Online (for Windows) for greater viewing possibility when on the move. It also offers some additional cloud syncing functions: Scan to SugarSync and Scan to Salesforce Chatter as well as ScanSnap folder for Windows OS only.¦The S1100i supports wireless scanning to iPad, iPhone, Android and Kindle devices for convenient viewing via the mobile app ScanSnap Connect Application . The wifi of the ScanSnap installed computer must be switched on to use this feature.¦The optional Quick Menu allows you to quickly transition between different scanning intentions. Just press the scan button and choose where you want your scanned data to be sent.¦ABBYY FineReader for ScanSnap bundled OCR (optical character recognition) software lets you scan documents with machine print directly to editable Microsoft Word, Excel and PowerPoint format.¦With ScanSnap Sync built into ScanSnap Organizer software and the ScanSnap Connect app, captured documents are automatically synchronized with all your devices through Dropbox, Google Drive or Microsoft OneDrive.¦A few simple steps to digitize and manage the information on your receipts. ScanSnap Receipt allows you to easily scan and extract information from your receipts, and export the data for other accounting software. The sophisticated features within ScanSnap Receipt automatically support various languages and currencies.¦Available as an option, use carrier sheets to digitize larger documents (A3/B4), magazine and newspaper clippings, photographs, and more.
Main Specifications
| | |
| --- | --- |
| Product Description | Ricoh ScanSnap S1100i - sheetfed scanner - portable - USB 2.0 |
| Dimensions (WxDxH) | 27.3 cm x 4.75 cm x 3.4 cm |
| Weight | 350 g |
| System Requirements | Microsoft Windows Vista (32/64 bits) SP2 or later, Microsoft Windows 7 (32/64 bits), Apple MacOS X Lion 10.7, Apple OS X 10.8 Mountain Lion, Windows 8 (32/64 bits), Windows 8.1 (32/64 bits), Apple OS X 10.9 Mavericks, Apple MacOS X 10.10, Windows 10 (32/64 bits), Apple MacOS X 10.11, Apple macOS 10.12 |
| Device Type | Sheetfed scanner - portable |
| Interface Type | USB 2.0 |
| Optical Resolution | 600 dpi x 600 dpi |
| Max Document Size | 216 mm x 863 mm |
| Scan Element Type | Contact Image Sensor (CIS) |
| Input Type | Colour |
| Additional Functions | Scan to cloud, scan to smart devices, scan to file |
| Light Source | RGB LED array |
| Environmental Standards | ENERGY STAR Qualified |
| Max Supported Document Size | 216 x 863 mm |
| Supported Document Type | Plain paper, business card |
| Document Feeder Type | Manual |
| Scanning Sensor Type | Contact Image Sensor (CIS) |
Prices and informations are subject to modifications
*The stock and delivery time may change at any time, at the up or down.