Ricoh ScanSnap iX100
Ricoh ScanSnap iX100 - Sheetfed scanner - Contact Image Sensor (CIS) - 216 x 863 mm - 600 dpi x 600 dpi - USB 2.0, Wi-Fi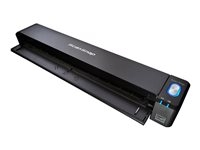 224.43 € vat excl.
9 IN STOCK
| | |
| --- | --- |
| Category | Scanners |
| Manufacturer | FUJITSU |
| Model | iX100 |
| Productline | Ricoh ScanSnap |
| Part number | PA03688-B001 |

The cross platform compatible ScanSnap iX100 brings the power and intuitiveness of the ScanSnap range of models to a compact and totally wireless format. Weighing just 400g the ScanSnap iX100 comes with a USB rechargeable Lithium-ion battery that is capable of up to 260 A4 scans on a full charge. Combined with an ability to scan either via a wireless network to PC workstations or mobile devices running the ScanSnap Connect Application this ScanSnap delivers a true 'scan anytime scan anywhere potential'.¦The ScanSnap iX100 can automatically detect Wi-Fi networks at home, in the office or on the go, it is only needed to be set up once after which any regularly visited network environment will be automatically detected. Alternatively with Direct Connect mode it is possible to scan wirelessly beyond an infrastructure network, simply download the ScanSnap Connect Application free of charge from the official application distribution services and then scan, save and distribute documents directly to an iPad, iPhone or Android device.¦A multitude of everyday documents can be seamlessly processed by the iX100 at a speedy 5 seconds per A4 page, whether it be business cards or receipts (check out the impressive dual scan functionality that allows you to scan small documents simultaneously), photos, thicker items like postcards, bills, everyday A4 documents or even A3 documents. Scan both sides of a folded A3 document one after the other and if an adjoining pattern is detected the bundled software will automatically join the 2 page images together.¦The ScanSnap iX100 comes with a choice of paper paths, a straight paper path aids for the scanning of everyday documents and thick materials like post cards, business cards, and plastic ID or credit cards and a u-turn path helps facilitate the scanning process when space is at a premium or indeed when the Continuous Document Feeding function is activated. The Continuous Document Feeding function allows the insertion of pages one after another by detecting when a sheet enters and exits. Set the document face-up into the iX100 and push the Scan button, the iX100 will then proceed to scan the front side after which the page will exit from the top of the scanner if the paper path is set to U-turn, simply then re-insert the page without pressing the Scan button to scan the back side. After scanning has finished, press the Scan button to save the file.¦A few simple steps to digitize and manage the information on your receipts. ScanSnap Receipt allows you to easily scan and extract information from your receipts, and export the data for other accounting software. The sophisticated features within ScanSnap Receipt automatically support various languages and currencies.¦With ScanSnap Sync built into ScanSnap Organizer software and the ScanSnap Connect app, captured documents are automatically synchronized with all your devices through Dropbox, Google Drive or Microsoft OneDrive.¦The iX100 supports wireless scanning to iPad, iPhone, Android and Kindle devices for convenient viewing via the mobile app ScanSnap Connect Application. The wifi of the ScanSnap installed computer must be switched on to use this feature.¦Seamlessly scan to services such as Evernote, Dropbox, Google Drive, Salesforce, or Sugarsync. View and share your documents anywhere and anytime. Now with ScanSnap Cloud your scanned documents will be automatically recognized and routed straight to your preferred cloud account.¦ABBYY FineReadder for ScanSnap bundled OCR (optical character recognition) software lets you scan documents with machine print directly to editable Microsoft Word, Excel and PowerPoint format.
Main Specifications
| | |
| --- | --- |
| Product Description | Ricoh ScanSnap iX100 - sheetfed scanner - portable - USB 2.0, Wi-Fi |
| Dimensions (WxDxH) | 27.3 cm x 4.75 cm x 3.6 cm |
| Weight | 400 g |
| System Requirements | Microsoft Windows Vista (32/64 bits) SP2 or later, Microsoft Windows 7 (32/64 bits), Apple MacOS X Lion 10.7, Apple OS X 10.8 Mountain Lion, Windows 8 (32/64 bits), Windows 8.1 (32/64 bits), Apple OS X 10.9 Mavericks, Apple MacOS X 10.10, Windows 10 (32/64 bits), Apple MacOS X 10.11, Apple macOS 10.12 |
| Device Type | Sheetfed scanner - portable |
| Battery | Lithium Ion |
| Interface Type | USB 2.0, Wi-Fi |
| Optical Resolution | 600 dpi x 600 dpi |
| Scan Speed | 5 sec / scan |
| Max Document Size | 216 mm x 863 mm |
| Scan Element Type | Contact Image Sensor (CIS) |
| Input Type | Colour |
| Additional Functions | Scan to cloud, scan to smart devices |
| Light Source | RGB LED array |
| Environmental Standards | ENERGY STAR Qualified |
| Max Supported Document Size | 216 x 863 mm |
| Supported Document Type | Plain paper, business card, post card |
| Document Feeder Type | Manual |
| Scanning Sensor Type | Contact Image Sensor (CIS) |
Prices and informations are subject to modifications
*The stock and delivery time may change at any time, at the up or down.